Product description
Introducing the brand new All-Terrian destroyer deck inspired by fellow ATV Elias Elhardt. The SANTOKU was designed to be the go-to shred stick for anyone who likes to turn the whole mountain into a terrain park no matter if its nipple deep pow or spring slush.
The brand new SANTOKU snowboard is the ultimate utility knife, prepared for any condition or terrain you throw at it. Built together with snowboarding ATV (All Terrain Vehicle) Elias Elhardt to be the perfect snowboard to turn the entire mountain into a personal playground, with its All-Terrain Twin shape and elongated tip and tail allowing for more float in the pow and longer butters on the groomers. The combination of good ol´fashion Trüe Camber and the new carbon reinforcement fiber Diamond V-Tips in the tip and tail, provides the pop and response you need for kicking out methods and flying down first decent at record speeds. When you´re on the groomers the Dual Degressive Sidecut and Whiplash Core Profile will allow you to carve it up like it's your day job.
Rocker Type
Trüe Camber – Good old standard camber, which provides the stability and pop many shreds can't live without. The amount of snap and support you get from a cambered board is unrivaled by any other camber design.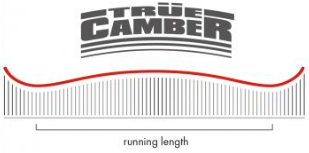 Flex
Flex Rating – 4 (1 Soft - 10 Stiff)
Core
Powerlite Core – The highest grade of ultra-lightweight poplar wood in Nitro's Powerlite core makes for the perfect ride with lots of pop and unmatched strength at a minimum weight.
Whiplash Core Profile – This profile features reduced thickness between the inserts with added meat outside your feet for maximum ollie power, while maintaining a perfect press flex.
Laminates
Diamond Laminates – Well-balanced layers of carbon fiber establish a new level in performance. More snap and liveliness provide a smooth, powerful, and effortless ride.
Base
Sintered Speed Formula II Base – Rocket science, put to work! A nanotech wax formula deeply infused into the sintered base material makes the base surface lightning fast in all snow conditions. Highly tuned yet extremely durable, Speed Formula II Base technology is exclusively featured on Nitro high-end boards.
#thinkattridge

Attridge Ski & Board