Spring Break

Spring Break Slush Slasher W20
Product description
Camber Type:
PARTY PROFILE
The Party Profile features an easy to ride zero camber midsection with a kinked flat kick nose and a chilled out mellow tail. This allows the nose to rise above slush, pow, or chunder as you lay care-free carves on your way down the hill.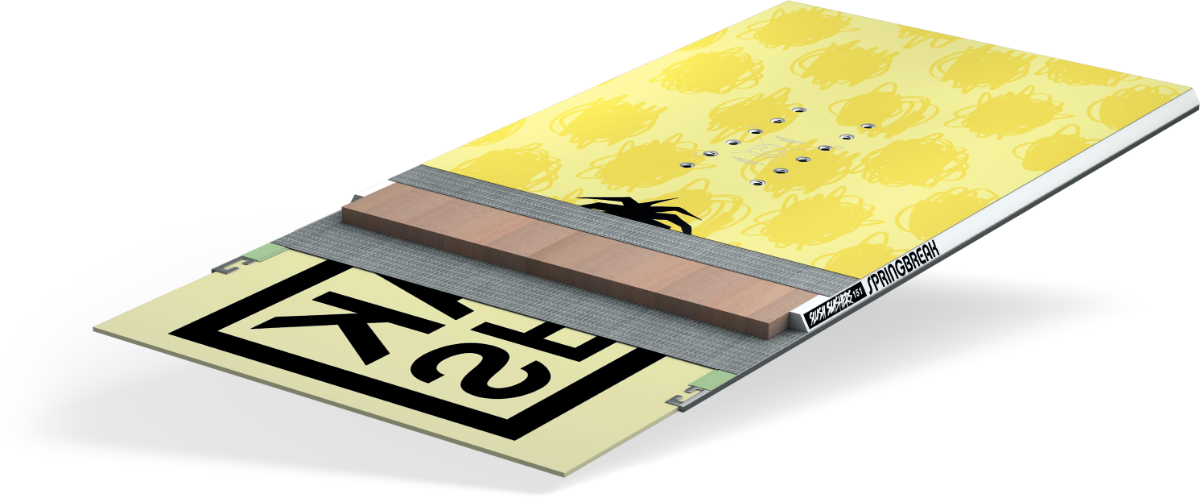 NEW! SUPERDRIVE™ EX BASE
The new standard in sintruded base material, this versatile running base is precision forged for high abrasion resistance and a super smooth glide.
Level 5 DeepSpace™ Silkscreen Topsheet
Multitech™ Silkscreen + Die-cut Base
PLT Topsheet Technology™
360 Degree HRC48 Steel Edges

NEW!

Full ABS1000 Sidewalls
Stainless Steel 4 x 2 Inserts
Length
Effective
Edge
Waist
Nose/Tail
Taper
Sidecut
Max Stance
(CM/Inches)
Suggested Weight
(lbs/kg)

NEW!

139
103.0
28.0
31.9 / 29.3
2.65
11.58
56.0 / 22.0
90-160 / 40-72
152
117.0
25.0
29.4 / 29.4
2.65
12.44
57.0 / 22.4
110-170 / 50-77
154
118.6
25.2
29.6 / 29.6
2.65
13.32
58.0 / 22.8
130-180 / 59-82
156
120.2
25.4
29.9 / 29.9
2.65
14.22
59.0 / 23.2
150-200+ / 67-91+
#thinkattridge

Attridge Ski & Board