Fiberglass/Carbon Fiber Adj Paddle
Fiberglass/Carbon Fiber Adj Paddle
The VAMO adjustable carbon-fiberglass paddle is packed with features. An innovative blend of carbon, poly fiber and fiberglass has the paddle weigh in at just under 24 ounces. The carbon-fiberglass blended shaft creates a light-weight moderate flex throug Read more.
FREE Shipping in Canada over $150*

1000's more products in store!

Call us today 250-542-1515
Product description
Carbon / Fiberglass / Poly blend
ABS Edge to ensure maximum durability of paddle while protecting board from damage. 
T-Grip handle is ergonomically fitted to provide comfort without sacrificing control. 
Dihedral edge creates blade stability in the water to allow you to focus on proper technique with a steady stroke throughout your paddle motion.  
Adjustable from 68" - 88"
Built in adjustment measure to make sure you are always paddling at the proper height. 
Never Slip flip lock makes sure your paddle stays at the height you want it to. 
Never Twist V-Groove is a "V" shaped channel on the back of the adjustment handle that fits perfectly into the shaft guide to make sure your paddle never twists in your palm. 
Paddle Specs
90 SQ. IN. Blade
Blade Angle: 10 degrees
Blade Length: 15"
Blade Width: 8"
Maximum Length: 78"
Recently viewed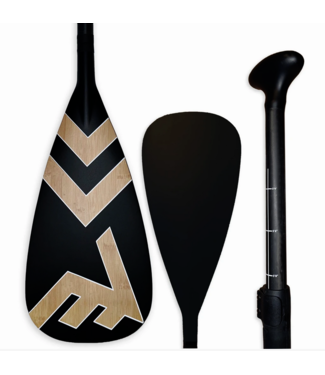 -15%