Fluid 28" Mast - Link 3D 39cm Fuselage - Hybrid Carbon Balance 1600 Front Wing - Hybrid Carbon Navigator 240cm
All rise! Here comes the lift edition.
Our tallest mast and our biggest front wing; both designed to take you higher. Manifested with a built-in metronome to keep a consistent prolonged cadence. When we set out to design this series, we were looking for an effortless turn like you are ripping powder. A fluid session will always have you feeling in control of your ride as you comfortably stand upright in a natural foil position.
This is where it all starts - the personality of your levitating experience. A proper flight begins and ends with a front wing set to your cadence and velocity.
FRONT WINGS 101
Before we tell you about our Balance Wing, let's understand the science behind Aspect Ratios and their two opposing styles. Here's a look at how our feathered friends have evolved their wings and how we mimic their world of aquatic flight.
Longer Wingspan
Longer Wingspan with a narrower depth outline allows flight over long distances without as much flapping. - Basis of Speed

Higher Aspect Ratio
As speed increases, wingspans expand, get narrower, flatter, and more streamlined at the end.
Medium Wingspan
Medium wingspan with a deeper depth outline allows a soar with reliability, while the elliptical outline creates a quicker reacting turn. – Basis of Balance

SPEED VS. LIFT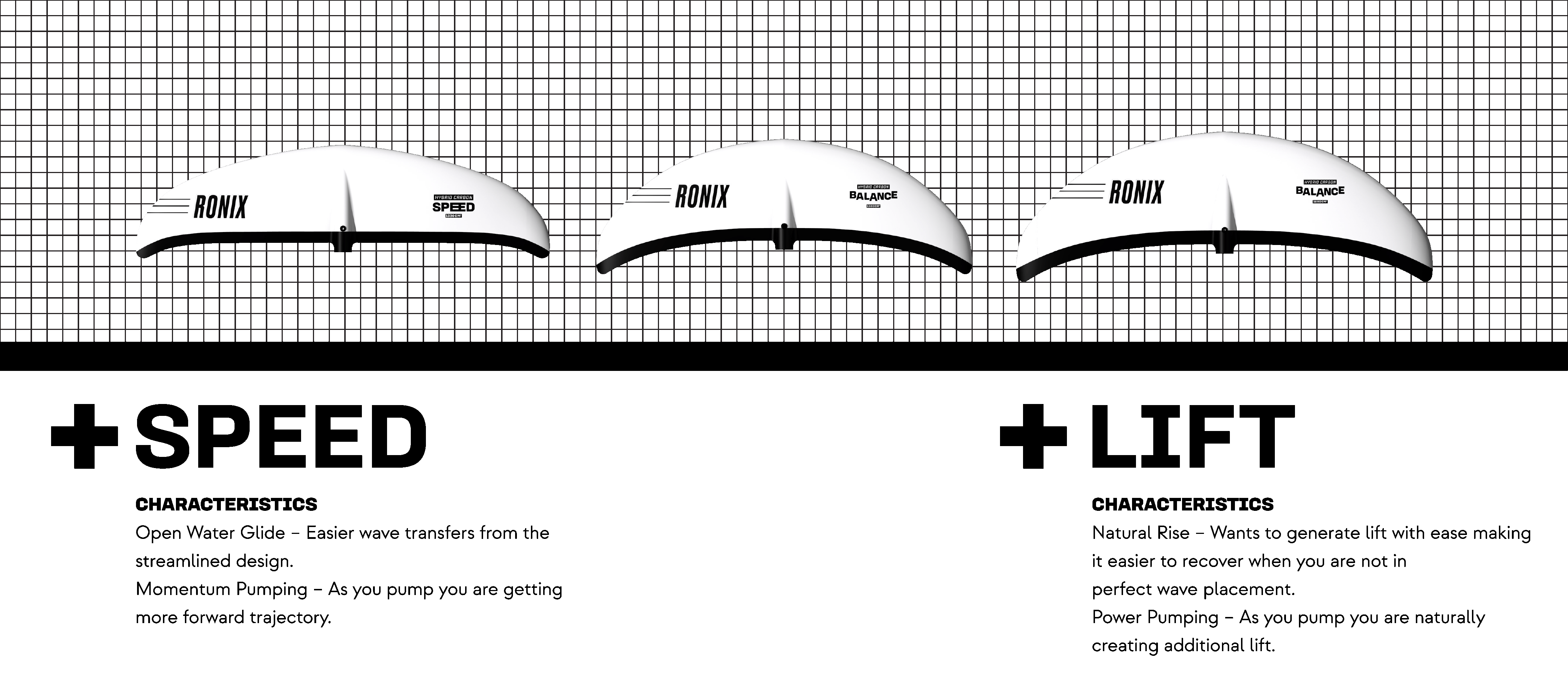 FEATURES
Fluid 28" Mast
Link 3D Fuselage
A high grade machined aluminum fuselage is the perfect intersection between mast, front wing, and rear stabilizer.
Balance 1600cm2 Front Wing
Navigator 240cm2 Rear Stabilizer
INCLUDED
Purchasing This Complete Foil Kit - Every complete Ronix set up comes with all necessary hardware, protection sleeves, bags, etc. The only thing you will need is a foil board.