Utilising our Epoxy Sandwich Vacuum Construction (ESVC), we start with an EPS foam core and layer it with multiple top layers of Fibreglass and Bamboo to create the sandwich. This is layered with an additional carbon top layer in the standing zone for extra strength and feel. In order to keep the board light, we only use two layers of Fibreglass on the bottom.
Featuring our flagship "displacement hull" the COMP CANADIAN is shaped with a unique negative nose angle design that is a derivative of the "America's Cup" sail boats. This progressive shape will help you cut through headwinds and choppy water with ease. Meanwhile, a small ridge line on the bottom of the hull that extends from the nose will give you a huge advantage in directional stability. The raised thickness of the forward standing zone will allow you to load up your gear and keep your feet dry on longer cruising journeys. Like all our touring boards, the COMP CANADIAN comes equipped with our race-oriented "Touring Fin".
Once you paddle our touring boards you will notice the difference our engineering details make.
Enjoy the ride!
Package Includes: Board, Bag, Fin, Leash, 2 Piece Carbon Paddle
Specs:
Size: 12'6" x 30" x 6"
Construction: Epoxy Sandwich
Total Capacity: Up to 250 lbs
Board Weight: 34 lbs
Construction Type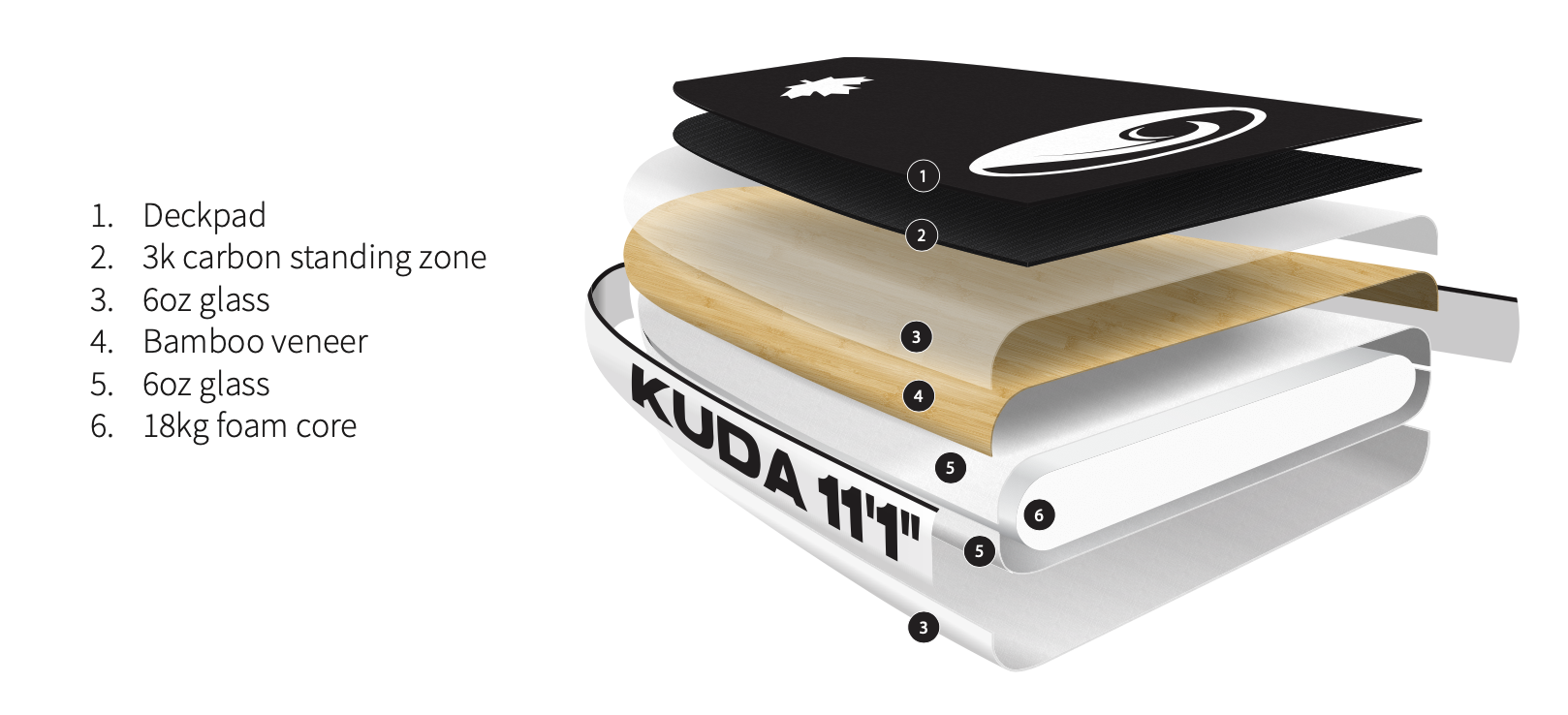 All KAHUNA EPIC SERIES models are hand shaped and use an Epoxy Sandwich Vacuum Construction (ESVC). The foam blank is laid up with two 6 oz layers of fiberglass cloth on the bottom that overlap the rails. The top is made up of 3 layers, two 6 oz fibre-glass layers sandwiching a bamboo veneer.
For overall strength and durability, the standing zone has an additional top layer of 3K carbon glass is used resulting in 4 layers under foot. The board is then vacuum bagged for perfect consis-tency producing a strong epoxy sandwich.